A Mystical, Magical Sedona Wedding

At Sedona Elopement Weddings, we can help you capture the beauty, the splendor, the magic of the red rocks! Sedona Elopement Weddings will provide an ordained, non-denominational minister in the beautiful outdoors. We can provide a witness and wedding photographer if it's just the two of you eloping. We will suggest a fantastic Sedona wedding location and let you know the best time of day so you have wonderful light for your wedding pictures. All you need to bring is a Marriage License! An elopement in the red rocks of Sedona will create memories to last a lifetime!
Easy-Access or Adventure Wedding?
We go to spectacular locations! Some are close to town and close to parking so there's very little walking necessary, and some require a high-clearance Jeep or a hike–your choice!

Wedding Ceremony Choices

We offer a choice of wedding ceremonies and encourage you to choose one that represents your values and beliefs. We have a basic, non-denominational ceremony, an orthodox ceremony, and a spiritual ceremony. You are welcome to create your own wedding ceremony. We invite you to mix 'n match the words, deleting what doesn't represent you and adding what does. Write your own vows, add readings and poems. Our officiants and ministers are from a variety of backgrounds; you may choose a male or female officiant or wedding minister.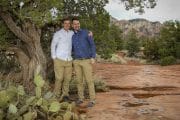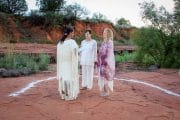 Last – Minute Elopements
Call us to see if one of us is available to marry you today! We can often put together a last-minute wedding from our group of wedding professionals. An elopement out in nature in the gorgeous red rocks of Sedona can be easy and affordable. See our Sedona Elopement Wedding Packages here. Let Sedona Elopement Weddings help you create the Sedona wedding of your dreams!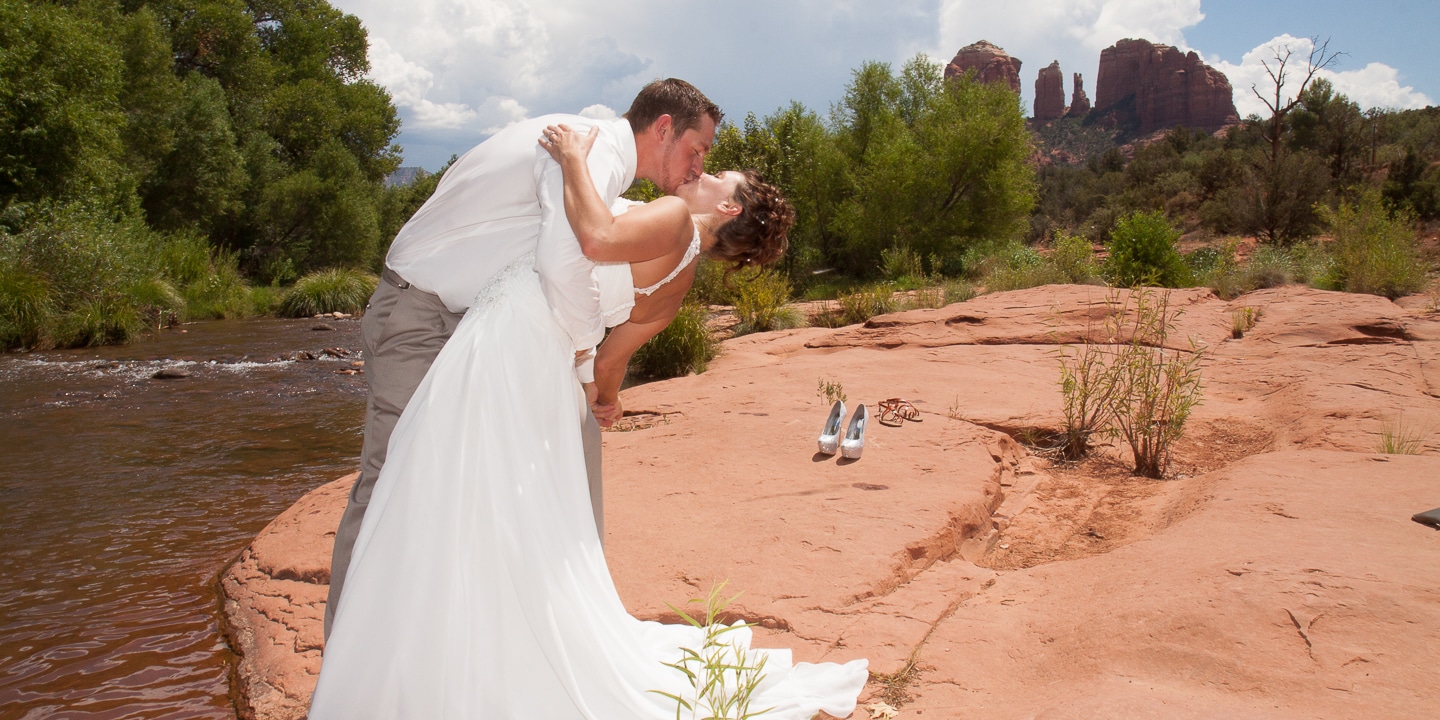 Red Rock Crossing: Cathedral Rock and the waters of Oak Creek are the highlights of this favorite Sedona Elopement Weddings location. You can access it from West Sedona (wedding reservation needed) or you can enter from the Village of Oak Creek side with a little hike.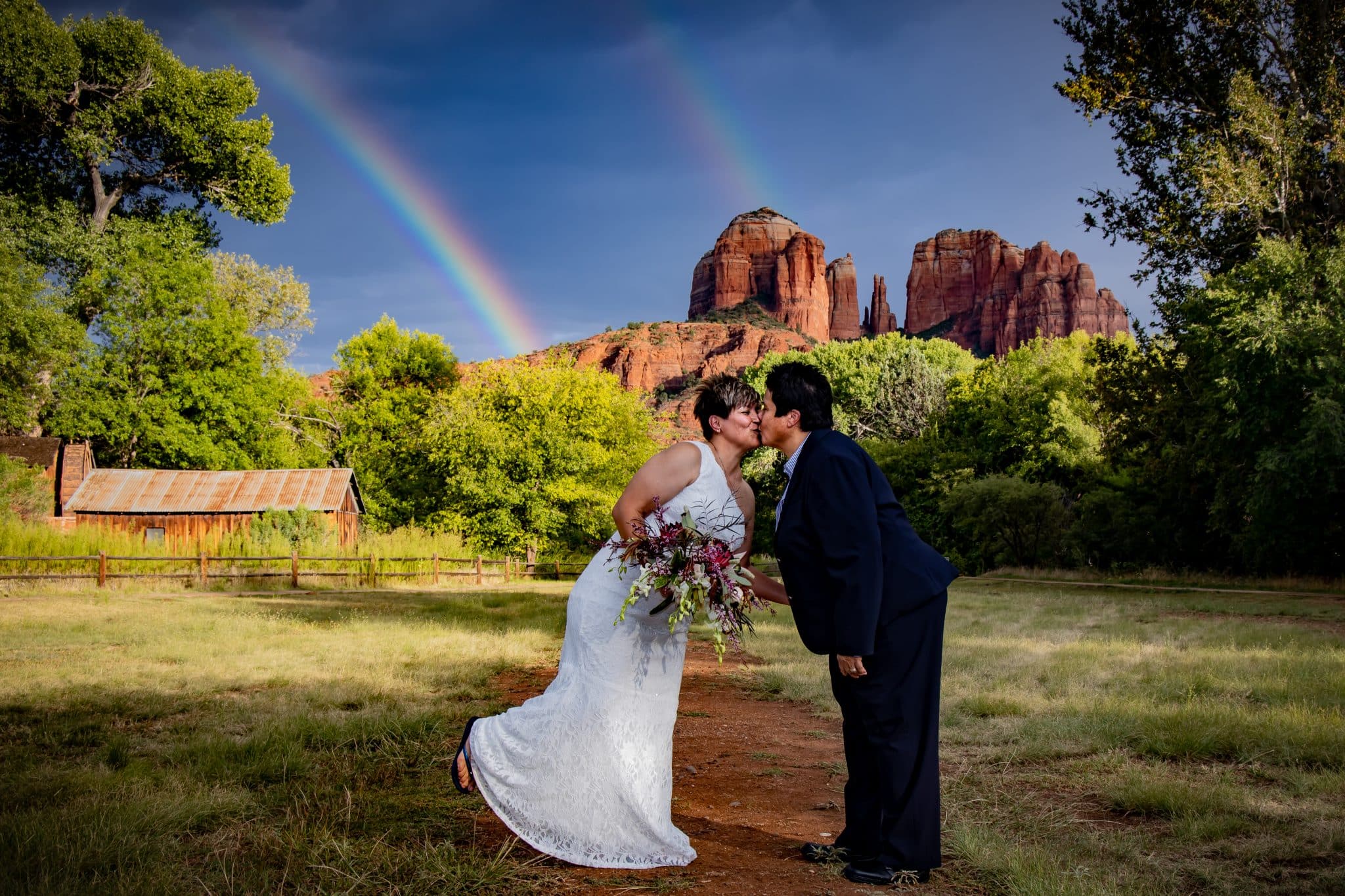 A double-rainbow blessed this wedding in the meadow at Red Rock Crossing!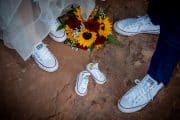 Baby shoes announced to family and friends the wonderful news at this Sedona wedding!
Sedona is breathtaking in every season and our weather is mostly mild. (Of course, that' relative…)  Many red rock wedding locations are considered to be Sedona vortex sites. The red rock Sedona vortexes each carry their own specific energies and beauty. We at Sedona Elopement Weddings know all the most spectacular locations and times of day for a Sedona wedding. The vibrant hues of the Southwest don't get any more spectacular than when reflecting on the red rocks… 
Permits
No permits are necessary when eloping outdoors, except at the State Parks or Recreation areas, which are very popular wedding locations and have lots of scenic spots for wedding photography. Once you book one of our services, we make the reservation for you. There are only a couple of wedding locations that have both water and red rocks. There can also be lots of people around in certain seasons, but, we at Sedona Elopement Weddings know some less-frequented spots for wonderful wedding photography. The parking is easy-access for elderly or infirm guests.

Check out the variety of red rock locations where you can get married. Many of Sedona's resorts and inns also have spectacular red rock view wedding sites.
Sedona Elopement Weddings can help you create your ideal Sedona elopement. As long-time Sedona locals and wedding professionals, we can help organize the perfect day for you!  Let us order a jeep to take you up to the hard-to-reach elopement wedding spots like Merry-Go-Round-Rock.  Referrals for flowers, cake, hotels and restaurants are here on our website under Referrals/Info.
We love Sedona, love elopements, and love helping you with your Sedona Elopement Wedding!