Sedona Wedding Packages / Prices and FAQ

Basic Officiating Package without added Witnesses– $295
The most affordable of the Sedona Wedding packages–you bring your own witnesses!  It includes the ceremony of your choice performed by an ordained, non-denominational minister at a spectacular red rock location for a group of up to 20 people. After you book us for your wedding, we'll suggest the perfect Sedona wedding ceremony spot according to accessibility, ease of parking, crowds, etc.  No permits are needed for elopements in the Forest Service, unless you chose Crescent Moon Ranch, which requires a $50 fee for a group of 15 people or less. After you book with us, we will make your reservation for you for no extra charge. (See Crescent Moon Ranch ceremony site).

Last-minute weddings are okay! We will send a choice of ceremonies that you may customize — you just bring your wedding license and rings! 
Basic Officiating Package with Witnesses– $375
If it's just the two of you, we'll bring the two witnesses required by AZ law. The wedding ceremony of your choice will be performed by an ordained, non-denominational minister at a spectacular red rock location.  (This fee includes the $40 per witness in addition to the Basic Officiating fee).
Officiating Package with Location/Planning Help for Groups — $495
If you have a group of over 15–100 and would like an affordable outdoor location such as Crescent Moon Ranch, Red Rock State Park, or some of the other outdoor locations that can handle groups, we can help you!  After you book with us, we send info on pros-and-cons of the locations (you can only have chairs set up at one of them), help you to coordinate whatever you desire–catering (or cater yourself), music, chair rental, cake-cutting, champagne toasts, etc.  Includes multiple emails and phone calls to answer your questions, directions if you want to go on a self-guided tour before making your final decison, a planning meeting, and on the wedding day, an experienced officiant to help keep things organized!  (You may add Photography or not to this package).

Basic Officiating Plus Unedited Photos Package –$490 or $590
Only need a few photos? This Sedona Elopement Weddings package offers officiating and unedited, professional photographs captured by a professional photographer for 30 minutes. Perfect for a simple elopement of just the two of you if you are on a budget.  Photos of the ceremony and license-signing, rarely is there time for the romantic posed-after-shots. Only available at the easy-access locations of Wedding Tree Knoll and Loop Trail. If you choose a location that has a walk to get to the ceremony site (Crescent Moon Ranch, Slick Rock, Bell Rock, Yavapai Vista), the 60 or 90 minute photos package is a better option.

For a group of more than just the two of you or for extra photo time for those wonderful romantic after-shots, we offer officiating and the unedited photography for an hour for $590.
The Unedited Photos are uploaded to your own online web gallery that you can download, share and make high-resolution prints from, or you are given the SD card straight from the camera.

Sedona Elopement Weddings Officiating & Photos Package — $690 or $790
Includes the ceremony of your choice officiated at a spectacular red rock vista plus professional photography for one hour. ($295 officiating fee plus $395 photo package.) The best 50 photos are edited and uploaded to your own online web gallery that you can share and make high-resolution prints from. For additional photography time, add $100 per 1/2 hour (will include editing). For Crescent Moon Ranch or some of the harder-to-reach locations, we recommend the 1.5 photography package for $790 in order to get to all the spectacular photo locations that the Ranch offers (65 edited images delivered). If a second witness is needed, add $40. Photographer acts as first witness at no extra charge.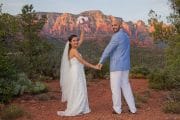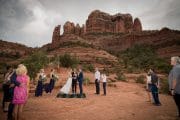 For a group of 20+, we recommend the 2 Hour Officiating & Photo Package — $890 (100 edited images.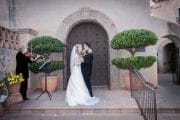 Sedona Elopement Weddings Photos & Video Package — $1380 
Includes the ceremony of your choice officiated at a spectacular red rock vista, professional photography for 1.5 hours with edited photos uploaded your own wedding gallery online, and professional video of the ceremony and romantic after-shots edited into a Highlight video to music of your choice. The photographer and videographer double as witnesses for no extra charge.
*Additional hours of photography and videography available.

Location Help:

Please check the Red Rock Locations under the Sedona Wedding Sites menu. It lists the sites that we use for outdoor Sedona weddings. When you inquire about our services, we send you an email tailored to your questions, anticipated date of elopement, and the number of people in your group. We will not suggest Crescent Moon Ranch on a weekend in the summer because of crowds. We will not suggest Bell Rock or Back O' Beyond if you have a larger group than can fit in one car. More specific location help is a service we offer after you book our services for officiating, photography, and/or videography.
Some Locations Cost More:

Most of our wedding locations are on Forest Service land and require no permits unless you have a group of 75 or more. Some of the locations charge for parking or will waive parking fees if you have a red rock pass. If you plan to get married in one of our State Parks,  there is a reservation fee paid directly to the Park ($125 for a group of up to 100).  Crescent Moon Ranch also has reservation fees; $50 for a two-hour slot that accommodates up to 15 people, or $125 for an all-day rental of the Ramada that accommodates up to 50 people.
Merry Go Round Rock, one of our adventurous Sedona wedding locations, requires a high-clearance jeep to get up the rough road and takes more time, so plan for added costs (more than doubles the cost of an elopement at one of our accessible locations).
Another adventure location, the Cathedral Rock Trailhead at the top of the Back O' Beyond site, is a strenuous hike and requires a 3-hour photo package. To keep costs down, we recommend the lower site for the ceremony with guests, and then, after the ceremony, just the couple go up to the top with the photographer.
Last-Minute Locations:
Ask us about our easy-access and easy-parking locations. Get married at a gorgeous red rock site without needing a reservation or needing a 4-wheel vehicle on a rough road. Some of our ceremony sites take only a minute or two to walk to. Wedding license info available on our Info/Referrals page–you can order your license by mail from Mohave County, or pick it up in Phoenix or in Yavapai County on your way to Sedona.
Time of Day and Time of Year for Photos:
Photos vary with the quality of light during different times of day and different seasons. We think sunset weddings have the prettiest light on the rocks, but in our chillier months here in Sedona, we may suggest an earlier ceremony time because of temperature.  As you look at our pictures at the various locations, be aware that they are taken at different times of day and with different skies. A cloudless, sunny day will be much brighter and harsher than a cloudy day–even later in the day.  A day that threatens rain may turn out to have the most glorious skies… it's the unpredictability of having a wedding out in nature!
Wedding Planning for Bigger Groups:

These outdoor elopements on public land are very affordable, but be aware that you may not be able to have everything you could have at a more expensive wedding at a wedding venue… like chairs and arches! There is no "aisle" to walk down… Our years of experience officiating and photographing weddings in Sedona have allowed us to garner all sorts of valuable information, from time of day for the best light, to advice about where to go for less crowded red rock views, including where not to go during the busiest tourist season.  We share that info with you on this site and on the Info/Referrals page so you can have the easy, carefree, budget-friendly wedding you've been dreaming of.
GROUPS: For groups of 15 – 50:  We can help with more specific location information after you have booked with us, and if you let us know that you want one of the reservation spots at Crescent Moon Ranch, we will help you make the reservation. If you book Photography with us, we create a suggested timeline so you get the prettiest light on the rocks. If you're not sure where you want to have your ceremony, please choose the Officiating Package with Location/Planning Help for Groups (see Packages above).  Crescent Moon Ranch offers a picnic site that is rent-able for the whole day for $125.  It has picnic tables and reserved parking for groups of 15-50. Red Rock State Park allows bigger groups (up to 100 guests).  It's possible to create a very affordable wedding if you cater it yourself, or you may just plan to have a champagne toast and wedding cake with your guests after the ceremony.

If you want to reserve our services for your wedding date, we ask for a deposit of half the amount of the package you choose. If I have told you we are available on a certain date and another wedding comes in before you make your decision and put down a deposit, your preferred time may not be available when you finally book. If you do put down a deposit, it is non-refundable, but it is transferable to another date if something changes in your plans. (Your deposit reserves the photographer/officiant so he/she doesn't take another job on your date).
We understand that getting married is not something you do everyday, so there are questions! We have all sorts of info on this site to guide you. We will suggest locations and time of day that work for your size group, because there are parking and accessibility issues here in the red rocks. Sometimes a location will be chosen because someone in your family won't be able to walk far. Be aware that Forest Service locations do not allow you to set up chairs, so guests stand. (You may bring one or two camping chairs if you have an elderly or infirm guest.)
"Making the Grand Entrance." When a bride does not want the groom to see her until she's "walking down the aisle" (which is not an "aisle" in these outdoor locations) it adds time and organizing challenges to the wedding, so plan to add half an hour to the photo package ordered. In most elopements, the bride and groom drive together to the site and he's already seen her in all her finery, but if a bride has always dreamed of seeing the look in his eyes as he's waiting by the altar (nature's altar, in this case) we can make that happen. It just takes some additional time and planning. You must tell us before the wedding day if you will be driving separately. When we meet the groom at the site and he tells us for the first time that the bride is "on her way," what can happen is that the couple runs out of photo-time and light before the photos are finished.
**Edited Photography Package Options — For most elopements, photography starts with the ceremony. It includes the signing of the license, group/family shots, and then those wonderful romantic shots in front of the red rocks.
For groups of 10 or more or at Crescent Moon Ranch or Slick Rock, we recommend the 1.5 hour photo package ($295 officiating fee plus $495 photo package).
For groups of 20 or more, we recommend the 2-hour photo package ($295 officiating fee plus $595 photo package).
If you would like "getting-ready" photos at your hotel, add an hour to your photo package.
If you desire more photography time, Multiple Locations, or want to see more packages, click here to go to SedonaWeddingMemories.com Packages page.
***More Details on Video options here: SedonaWeddingVideo.com
For groups larger than 50, unless you choose Red Rock State Park, which can handle 100 guests, we suggest you contact one of Sedona's wedding venues or resorts. Many of the resorts that specialize in weddings have an on-site wedding coordinator. The red rock locations out in the Forest Service land are for smaller groups and eloping couples.
Options and Extras for

Sedona Elopement Weddings Packages: 
A USB drive of edited images (in addition to web gallery upload) — $39

All

unedited

images uploaded into a private web gallery available with an edited package —  $100

Extra Photography Time — $200 per hour (includes edited images)            

Youtube Photo

Slideshow uploaded with music  —  $100
Engagement Party, Rehearsal dinner, etc.  —  $195 and up


A printed Photo Album — Call for options and pricing

A Sound healer with crystal bowls, didgeridoo, & drums (can be the 2nd witness) — $195
Sound Healer with Crystal Bowls and Didgeridoo